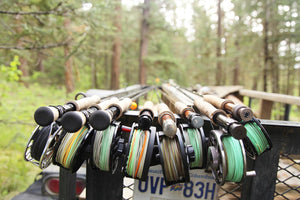 Habits of Successful Stillwater Anglers
Subtle habits of successful Stillwater anglers, and a brand new coaching program
In this episode of the Interior Fly Fishing Co. Podcast, I recall the days of stuffing my belly boat that I got for free into the back of my Honda hatchback and kicking around the lake in either my gym shorts or a pair of camouflage neoprenes I bought for $35 dollars on the internet.
We also chat about the key habits I began noticing in those that were doing much, much better than I was doing with the (little) given knowledge I had. One of these is the power of remaining a lifelong student, focusing on learning above and beyond anything else.
On the topics of learning, it is with excitement to be launching Stillwater Success, a 6-week live coaching program to help you 10x your stillwater knowledge and enter the 2020 season with complete confidence. Listen below or download on iTunes, Stitchr or anywhere podcasts are played!
---