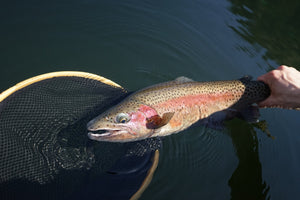 Early Spring Fishing: The Essentials
One of my favorite feelings in the world is waking up bright and early knowing that I am about to head out on a lake for the first time in a season. The excitement and anticipation of the day to come never gets old. Although exciting, it can also be a bit intimidating. You may have intel from others on how the lake has been fishing, insect activity (if any), and if the lake has experienced spring turnover or not. On the second hand, you may not have any of this information and are going in completely blind. For the sake of this article, lets pretend it's the latter. I am going to share a few tips on what to look for when approaching a lake for the first time, and how to go about it. 
Water Clarity
Water clarity has to be one of the most important factors when fishing in the spring. Each lake tends to experience spring turnover a bit differently. There can be a perfect window right after ice off where the water is clear and the fish are quite active. On the other hand, some lakes will start to turn almost immediately after ice off. This leads to extremely poor visibility, varying levels of oxygen, and generally tough fishing conditions. If you get to a lake and see colours that resemble chocolate milk with gunk floating on the surface, there's a good chance you'll be in for a tough day.
Timing
The idea of being on the water for the crack of dawn isn't necessarily the best tactic for productive fishing in the spring. Generally, the fish will become more active as the water temperature warms. I find during the early season, the most productive fishing doesn't start until around 11:00 AM or later. Of course there are exceptions, but make sure you are patient and anticipate the fishing to get better as the water warms up.
Depth
Spring can be one of the most exciting times for fishing due to the availability of trout in fairly shallow water. When I approach a lake that has only been ice free for a few weeks, I always like to start in shallow water. I tend to start my search in 6-12 feet of water. Look for areas of the lake where the fish have access to deeper water, but can move into the shallows to feed. When insect activity is fairly low, the staple foods for trout are generally available in shallow water. Start your day in the shallows and slowly progress deeper. If you see active fish anywhere on the lake, don't be afraid to move and chase after them.
Location
In the spring, I usually don't spend more than 15-20 minutes at any given spot unless I am having some action on the rods or seeing fish on the sonar. If you get lucky enough to be dialed in on the first spot you choose, enjoy the ride. Most of the time it takes a bit of movement to figure out what depth the fish are feeding in. If you are marking fish on the sonar, there is a good chance you just need to change flies/presentation. If you are parked for a while and don't see much action on the sonar (or on the rods if you don't have one), you can usually increase your odds of running into fish by changing locations. Try different depths and different types of structure such as weed beds, mud flats, and steep drop-offs until you figure out where the fish are hiding.
Food Availability/Insect Hatches
There are very few lakes that produce prolific hatches right after ice off. It's always a good idea to start with the staples until you can get a throat sample on a fish and determine what they are eating. Food that is available year round is always a great place to start. This includes leeches, scuds, and dragonfly nymphs. A leech is undoubtably the first fly I will tie on when approaching the lake for the first time unless there is an indication I should be fishing something else. If you get lucky, you might run into some early season chironomids. Generally start with very small flies (sz. 18-20) and work your way up. Always look for signs of fish or bird activity. They will show you where to go!
---